FUORISALONE 2023 WITH DALLAGNESE: ALL THE LATEST NEWS
Design week was, as every year, the most eagerly awaited event for all design and innovation enthusiasts. In an exclusive interview, we asked our art director to describe how he revolutionised the company's style and the new products presented at Fuorisalone by Dallagnese and the group.
Interview with Matteo Zorzenoni during Fuorisalone 2023
For this year, at Fuorisalone, Dallagnese presented new Slim elements with an elegant and minimalist design for the living area, offering versatile and functional furnishing solutions.
But the real novelty is the Tabula sofa, which has conquered everyone with its modern and versatile design: a masterpiece of modularity that offers endless possibilities for customisation. Perfect to adapt to any space and style requirement, whether for those who need a comfortable space to relax or a generous area to entertain friends, it's enriched with a practical bookcase, offering a complete furnishing solution in a single product.
As Dallagnese we are introducing an extension of the Slim living area range. In addition, we have also launched a sofa called Tabula, a modular couch that allows infinite composition possibilities and therefore adapts to any house space.
For the night area, we display the new wardrobes collection featuring the new interior finishes, a brand new range of doors including folding ones and glass doors with fabric.
New products also for the Wardrobe Collection
During the event, there was also a sneak peek of the new Dallagnese wardrobe collection, whose innovations in terms of design and functionality immediately caught everyone's attention. Among them, the new folding doors stood out, creating a dynamic effect and providing easy and practical access to clothing and accessories.
Another new feature is the glass with fabric effect, which gives the wardrobes a refined elegance. Thanks to this solution, the wardrobe becomes a decorative element itself, creating a play of transparencies and textures that adds charm and originality to the night area.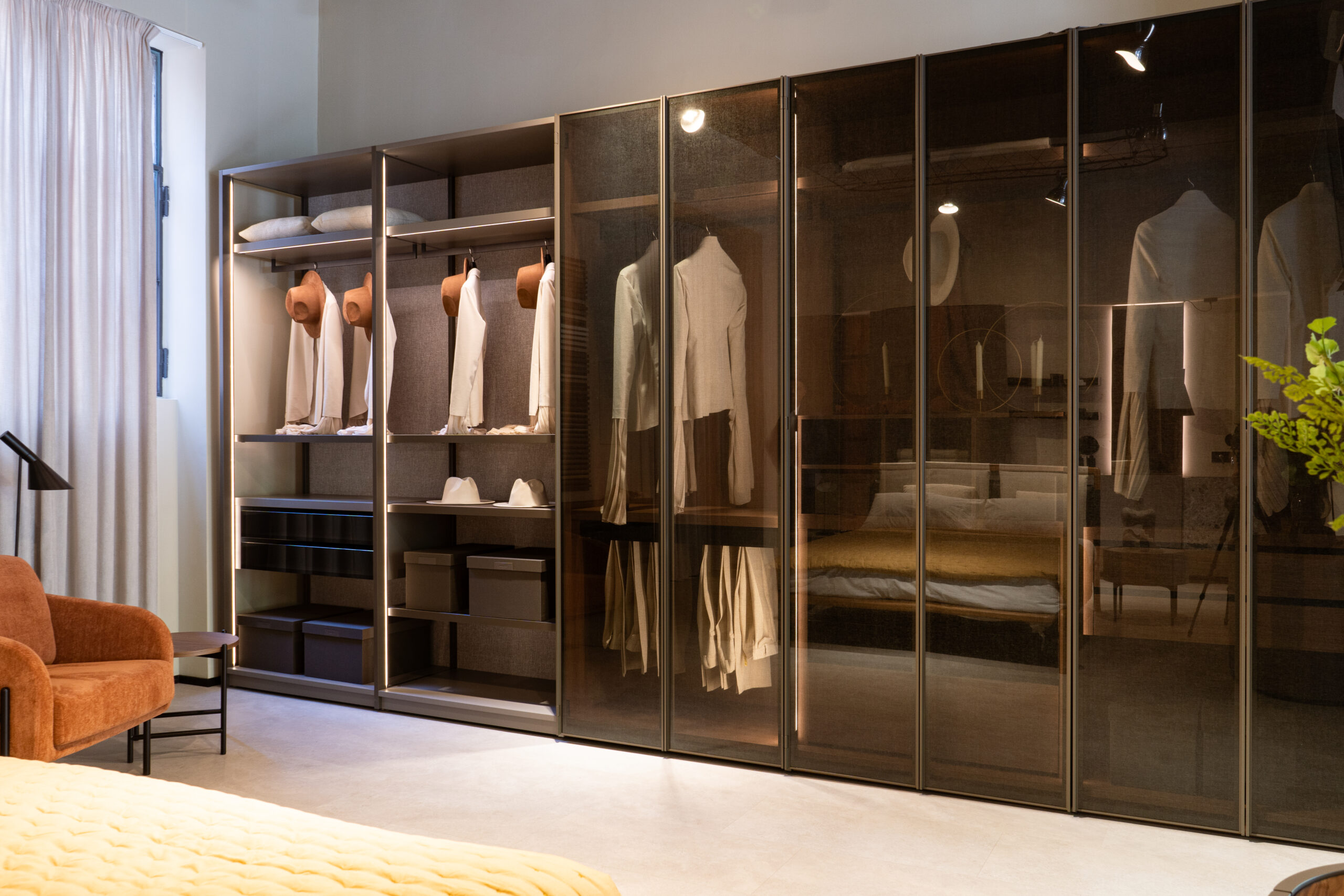 This year's Fuorisalone not only made possible the presentation of a wide range of new products for 2023, but was also a unique opportunity to highlight the synergies between the three brands of the group: Dallagnese, Comprex and Birex.
A complete and engaging experience that demonstrated how the group is able to offer an integrated vision where sharing materials, finishes and modularity allows spaces to flow harmoniously and in a coordinated way between the different brands. This synergetic approach allows the creation of environments that reflect each individual's uniqueness and style, while at the same time maintaining visual and functional harmony.